Anti-Fake Security Holographic Hot Foil Stamping
Description du produit
N ° de modèle: NS-HSF-039 Matériel: PET Matière première: Laser Hot Stamping Foil Size: Any Customized Thickness: 20u Glue: Hot Stamping Adhesive Specification: Rohs, CTI Code HS: 39199000 Application: Papier, Plastique Type: Holographic Hot Stamping : Flat Hot Face Material: Pet Film Couleur: Personnalisé Marque: Nine-star Origine: Guangdong, Chine Anti-Fake Security Holographic Hot Foil Stamping Brève information à propos de nous: · Notre produit fabriqué par technique et technologie avancées · Le logo et le design personnalisés sont acceptables . · Offre SGS, ISO9001: certificat 2000. · Un projet personnalisé est très bien accueilli. Nous avons connu un service de conception, de production, de vérification de la qualité, d'expédition et de vente après vente. Nous pouvons vous suggérer le matériel le plus approprié, produire des arts en fonction de l'exigence des clients afin de garantir que les produits peuvent répondre à la norme de nos clients. · Gamme d'utilisation: électronique , Les cosmétiques, la médecine, le funiture, l'automobile, les outils, etc. · Emballage: carton d'exportation standard (assez solide, imperméable à l'eau, jetable, aseptique, biodégradable, recyclé). Informations sur la production
Avec un procédé d'estampage à chaud, peut être transféré sur une grande variété de matériaux, comme le papier, le cuir synthétique, le tissu, le fer et le plastique. Il est bien reconnu que les feuilles chaudes peuvent facilement promouvoir les images et la valeur des produits. Hologramme des feuilles d'estampage à chaud utilisées sur toutes sortes d'emballages de produits, cartes de voeux, cadeaux, articles de papeterie, calendriers, couvertures de livres, cartes de crédit, articles et variété de matières plastiques comme le téléphone ÔÏetc.
Lorsqu'ils sont incorporés avec un motif de conception personnalisé ou un logo, les feuilles d'estampage à chaud Hot Hologram sont des feuilles de sécurité qui protègent les cartes de crédit, les passeports et les documents de valeur contrefaits.
1. Feuilles d'estampage à chaud hologrammes avec marques d'enregistrement - Feuillet d'estampage à l'hologramme enregistré
2. Hologramme Hot Stamping Foils sans marques d'enregistrement - papier peint design hologramme hot stamping foil
Size

As your requirement

Sample:

Free

Material

PET/OPP/BOPP

MOQ:

1000pcs

Color

gold, silver, clear, blue, red, pink, green etc

Packing:

carton

Usage

Anti counterfeiting, package seal,custom

Price

Ex-factory ( based on material, size, printing colors and quantity)

Feature

1) Water proof and sticky




2) Great to prevent leakage, excellent moisture barrier




3) Strong sealing, durable




4)Anti counterfeiting




5)if you need more security,can add scratch 

off,unique number,serial number,QR code etc.

Shipment 

Express(DHL/UPS/Fedex)

Delivery time

Normally 7-10 days

Payment

T/

T

 bank transfer

, Western union, L/C, Moneygram
Salon du produit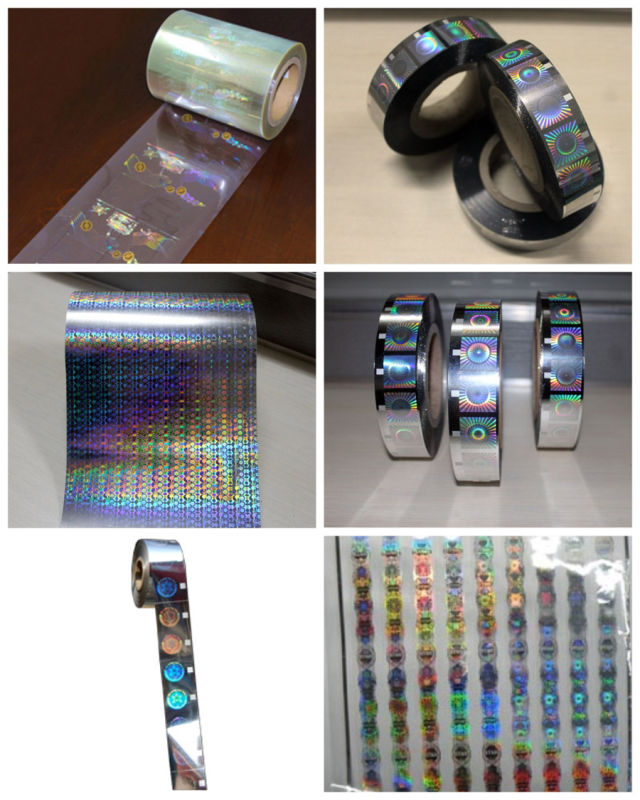 Largement utilisé dans divers domaines

À propos de nous: (1) L'étiquette autocollante authentique originale est notre avantage; (2) Votre demande relative à notre produit et prix sera répondu dans les 24 heures. (3) Un personnel bien formé et expérimenté doit répondre à toutes vos questions en anglais bien sur. (4) Nos produits sont exportés vers l'Europe, l'Amérique du Nord, l'Amérique du Sud, l'Afrique, de nombreux pays en Asie, partout dans le monde. (5) Bon service après-vente offert, s'il vous plaît revenir si vous avez une question. Bienvenue à nous contacter à tout moment pour tous les détails, nous vous répondrons dans la première fois.
Contact: Chace Jiang
Mobile: + 86-13790329087
Groupes de Produits : Hologramme Hot Stamping Foil