Description du produit
Modèle: NS-Hot-004 Type: Roll Traitement: Revêtue Etat de la surface: Single Light Aluminium Foil Matériau: Plastique Largeur: 170mm ou toute personnalisée Couleur: Personnalisé Marque déposée: Nine-Star Origine: Guangdong Chine Utilisation: Label & Tag Temper: Épaisseur douce: 15u / 20u / 25u Caractéristiques du roulement: Matériau du rouleau: Longueur du film pour animaux de compagnie: Un ensemble personnalisé: Rouleau Spécifications: Rohs, CTI Code HS: 7607190001 Transparent Hot stamping Foil
Objectif:
Embellissement d'un hologramme argenté et être utilisé pour marquer sur des cartes de crédit et des étiquettes de vêtements et étiquettes en papier.
La description:
Il existe un revêtement entre le PET et le revêtement d'enregistrement avec de l'aluminium.
La feuille de PET sera séparée par hologramme. L'hologramme est brillant et brillant après l'estampillage à chaud.
Généralement, il existe 2 types de feuilles d'estampage à chaud, l'une est argentée, l'autre est dorée. Nous pouvons également faire presque n'importe quelle couleur sur les demandes du client.
Épaisseur:
15 microns / 20 microns / 25 microns
Largeur:
170 mm ou toute largeur personnalisée.
Longueur:
La longueur d'un rouleau est d'environ 1800 m si 20 microns, son poids est d'environ 9 kg.
Température:
Embossing environ 105 degrés.
Description du produit:
Item

Hologram Hot Stamping Foil

Raw Material

Polyester Film

Specifications

Thickness

0.008mm~20mm

Width

10mm~2200mm

Length

roll,2m,3m,5.8m,6m,or as required

Surface

Bright, polished, hair line, panting, embossed, etching, etc.

Price Term

FOB, CIF , CFR, etc.

Payment Term

T/T, L/C

Delivery Time

According to order's quantity.

Package

Export standard package: bundled wooden box, suit for all kinds of transport.

MOQ

30 kg

Export to

Singapore,Indonesia,Ukraine,Korea,Thailand, Viet Nam, Saudi Arabia, Brazil,

Spain, Canada, USA, Egypt, Iran, India, Kuwait, Dubai, Oman, Kuwait, Peru,

Mexico, Iraq,Russia,Malaysia, etc.

Application

(1) Embossing hologram foils

(2) P

roducing tamper-proof hologram stickers and labels.
Image du produit: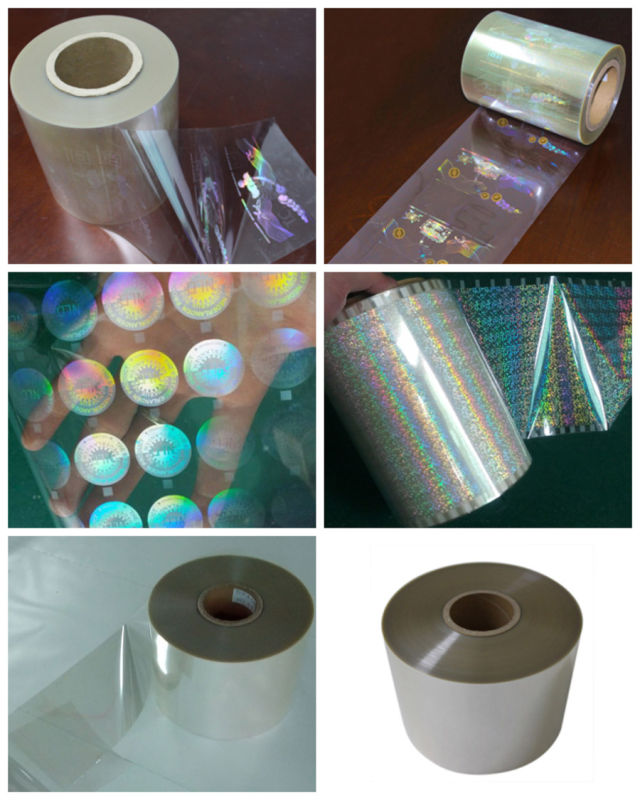 Contact:
Chace Jiang
Mobile: + 86-13790329087
Groupes de Produits : Feuilles à gaufrage à chaud