Gold Tamper Evident Aluminium Embossing Void Foil
Description du produit
N ° de modèle: NS-0137 Type: Roll Traitement: Revêqué État de la surface: Single Light Aluminium Foil Matériau: Plastique Largeur: 170mm ou toute personnalisée Couleur: Personnalisé Marque déposée: Nine-Star Origine: Guangdong, Chine Utilisation: Étiquette et Tag Temper: Soft Épaisseur: 20u / 25u / 30u / 36u / 50u Caractéristiques du roulement: Matériau du roulement du rouleau: Longueur du film d'animal familier: tout ensemble personnalisé: Roll Spécifications: Rohs, CTI Code HS: 7607190001 Gold Tamper Evident Aluminium Embossing VOID Foil
Objectif:
Hologramme de gaufrage et être utilisé pour produire des autocollants et des étiquettes spécialisés en hologramme à deux couleurs.
La description:
Il y a deux couleurs dans les feuilles, l'une est argentée, l'autre est dorée ou rouge ou verte ou bleue ou toute autre couleur personnalisée.
La couleur ne peut pas être effacée car elle se trouve à l'intérieur de la feuille et non sur la surface du PET.
Il existe 3 sortes de ces feuilles, la première est non évidente, la seconde est inviolable, la troisième est inviolable avec VOID ou tout modèle personnalisé.
Épaisseur:
25 microns / 30 microns / 36 microns / 50 microns / 75 microns
Largeur:
170 mm ou toute largeur personnalisée.
Longueur:
La longueur d'un rouleau est d'environ 1500 m si 25 microns, son poids est d'environ 9 kg.
Température:
Embossing environ 105 degrés.
Description du produit
Item

Special Security Materials

Raw Material

Polyester Film

Specifications

Thickness

0.008mm~20mm

Width

10mm~2200mm

Length

roll,2m,3m,5.8m,6m,or as required

Surface

Bright, polished, hair line, panting, embossed, etching, etc.

Price Term

FOB, CIF , CFR, etc.

Payment Term

T/T, L/C

Delivery Time

According to order's quantity.

Package

Export standard package: bundled wooden box, suit for all kinds of transport.

MOQ

30 kg

Export to

Singapore,Indonesia,Ukraine,Korea,Thailand, Viet Nam, Saudi Arabia, Brazil,

Spain, Canada, USA, Egypt, Iran, India, Kuwait, Dubai, Oman, Kuwait, Peru,

Mexico, Iraq,Russia,Malaysia, etc.

Application

(1) Embossing hologram foils

(2) P

roducing tamper-proof hologram stickers and labels.
Image du produit: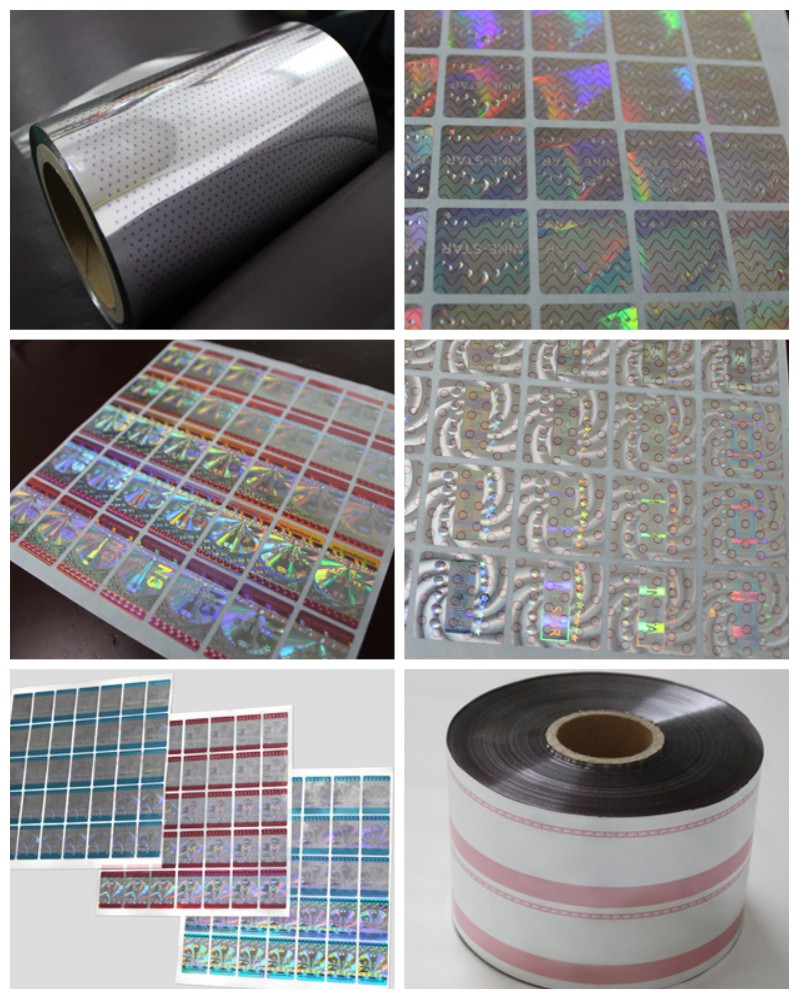 Contact: Chace Jiang (+ 86-13790329087)
Groupes de Produits : Matériaux de sécurité spéciaux